March 24, 2015
Peanut Takes Her Last Nap March 2015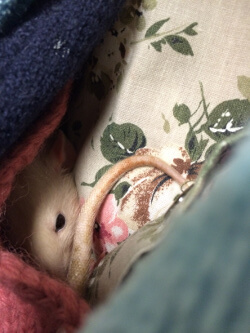 It is with a VERY heavy heart that I share the sad news that my beloved and sweet therapy rattie Peanut has moved on to cross to Rainbow Bridge suddenly last Friday March 20, 2015. I was in the middle of trying to schedule surgery to remove some rapidly growing tumors she had started sporting just a month prior on her backside in the mammary line (common in unbred rat moms in estrous cycling) when she just suddenly took a very unexpected and severe downturn, and it became clear she was on her way out. She became suddenly quite poorly, refusing food, drooling and trying to hide in a corner among other things I'll spare you – clearly not her sweet food-addicted rattie self at all. There were sadly enough signs for me that this was not something she could recover from, no matter how valiantly I might try.
So I reluctantly chose to end her suffering mercifully with the help of a local emergency vet later that evening when it was clear that no other measures would have helped ease her suffering for good. She was extremely happy and loving right up until the day before, making this come as a rather sudden shock to me. She did not indicate she was suffering in any way prior, so I'm still reeling a bit from the shock of her sudden turn for the worse and demise. But I know she's in a better place, and am deeply grateful for the sweet unconditional love and support she provided me just by being the cutest thing on 4 paws this side of the Mississippi. As well as the outpouring of love and support from my human community at this time of loss for me.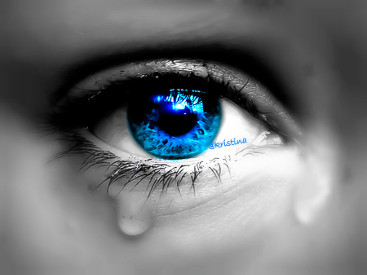 I know, to some of you she was "just a rat". But unless you met her, you won't be able to understand how she could be so much more. She literally melted hearts and minds of even the most rat-averse everywhere she went. (And rats are really like tiny, barkless micro-dogs really – just as smart and social, if not more so.) I feel unbelievably blessed to have been her keeper. Or rather, her "keepee", as she had me at "hello". I want to also deeply thank my friend Carol for helping me to keep her cage clean every week without having to take my ribs out. I think she was one of the best tended and spoiled pet ratties anywhere.
You can learn more about her, and enjoy many of her gut-busting antics on her Facebook page here now.
Humbly and sadly,
Just Jan March 23, 2015