And maybe that's why you're tired too! Join me on a journey of discovery about one of the most poorly recognized and unbelievably tangled health webs you can find involving not just one, but several intertwined systemic conditions I personally unofficially call the "Chronic Constellation" for lack of a better name.
Each syndrome alone is enough to take a person down at the knees, but combined as we so often find these, they can be downright show stopping, if not even lethal sometimes, sadly. Oh, That's Why I'm so Tired!
Yet barely 10% or so who have this "trifecta" of a form of Hypermobility Spectrum Disorder or Ehlers-Danlos Syndrome, MCAD and Dysautonomia (usually POTS) plus many variations and additional issues including autism and weak immune systems get properly diagnosed, and it takes 10 years on average to get diagnosed with a form of Ehlers-Danlos Syndrome. (It took me over 25!)
Most are currently getting diagnosed with Fibromyalgia or ME/CFS, if anything at all. This site is my attempt to help remedy that for everyone – both patients AND doctors!
Hypermobility Spectrum Disorders aren't rare, they're rarely diagnosed!
(If you find my site useful, please consider supporting me here thanks!)
---
News and Events
---
December 3rd is now also International Day of Persons with Disabilities Awareness Day. (Yay!) No, not everyone with EDS/HSD and "friends" (our zillion very common comorbidities we really hope doctors start connecting up SOON) is "disabled", but many are. Even if it's not clearly visible to those around us. Some will need wheelchairs or walkers or canes, but others need things like 504 plans and IEPs in school for their autism or ADHD or SPD.
Meanwhile, FGID is also highly comorbid in us thanks to our weak connective tissue affecting all parts of our anatomy, but not least of all our GI tracts. IBS is very common. And chronic constipation and also alternating diarrhea is very common. MCAS or mastocytosis (collectively known as MCAD) may drive some of this. As may SIBO. But just stretchy GI tract tissue alone can be a problem. As well as poor or blocked ennervation.
Hopefully some of you get some helpful answers sooner than later.
COVID-19 Emerging worldwide March 2020
I apologize for getting to this update late this month (March 12th as I typed this) thanks to both the outbreak of the newly recognized Coronavirus causing a pandemic of COVID-19 around the world. [Edited 8/11/20 to add past tense] I recommended this article as one of the best for anyone with any form of MCAD for avoiding and or enduring COVID-19, but it appears to be gone now.
Here is what The Ehlers-Danlos Society is advising for what it's worth. (Mostly WHO guidelines without specificity to EDS.)
[ETA 5/14/20:] And here's another one via Chiari Bridges that addresses EDS specific concerns with COVID-19 more directly and thoroughly.
Please take care not to "whale watch", that is, go leaping from one highly touted solution to another. "Oh look, a solution over here!" "Oh hey, there's another one over there! Ooh!" leading to wildly careening about the boat.
We are all desperate for answers and "cures" but this is how snake-oil salesman make their livings. Pause, and gather data. And consult YOUR doctors and practitioners first. And listen to your own bodies. Always. There are no panaceas, sorry.
And, as of 8/11/20, per this article, it appears your home made cotton masks DO work folks – so keep wearing them if you can. It's helping.
Older News
10/8/19 My kingdom for a comma! Yes singer Sia has Ehlers-Danlos Syndrome! No, it is NOT a neurological disease as the media mistook her first October 4th tweet to read! (Look closely, there's an Oxford comma there!) See her next tweet of October 6th clarifying this, but not before not only The Daily Mail and CNN but even WebMD *mistweeted* that EDS was "a neurological condition", eek!
DO YOUR DUE DILIGENCE PEOPLE! Take just 30 seconds to Google or otherwise research something before spreading misinformation!! And you wonder why we're so tired! 😉 Onward…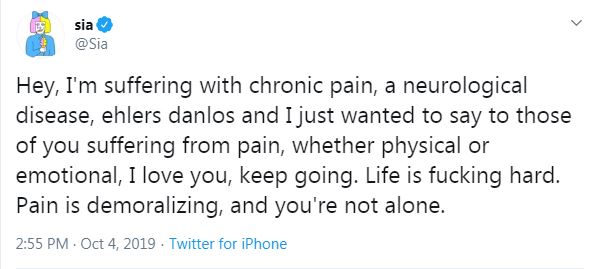 Ongoing news
Good news, Project EDS ECHO for doctors was rolled out in May 2019, and is officially underway. This should really help to "infect" more doctors with the latest information and insight into the forms of Ehlers-Danlos syndrome and Hypermobility Spectrum Disorders, so patients don't have to do all the heavy lifting anymore! It's found here: http://ehlers-danlos.com/echo .
So far 150 doctors have signed on and earned CME's for participating, thank you! The Ehlers-Danlos Society hopes to reach 1000 practitioners by 2020. (New "sessions" roll out periodically.) Help us reach that goal by sharing it with all your doctors! (Along with the EDS Toolkit for doctors freely available here too.)
Your Support is Needed!
Want to help keep this site as up to date as possible, and keep me off the streets? (Not joking – my rent is over 3/4 of my SSD income now, eek.)

I can really use your support here for as little as $1/month on Patreon
Or you can send a one-time gift to me on PayPal here, thanks!!
May 2017 historic EDS update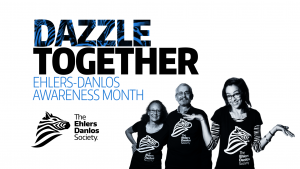 May is Ehlers-Danlos Syndromes Awareness month and boy did we have some updating to do in 2017! Thanks to the brand new 2017 EDS  nosology and diagnostic criteria published March 15th, 2017 there were 7 new rare types to know about (making a total of 13, up from 6 before), and they tightened the criteria for the most common form, hypermobile EDS making it (technically) rare again.
UPDATE 4/10/18: There's a new 14th type out now too.
ALL 18 PAPERS covering all aspects of the NEW Ehlers-Danlos Syndrome revised nosology and diagnostic criteria are here now. For those unaware, this is the FIRST update since the Villefranche nosology was presented in 1997 (over 20 years before!), and this also supplants and replaces the Brighton Diagnostic Criteria for Joint Hypermobility Syndrome which some also used to diagnose hypermobile type EDS also. So there will at least be no more confusion between Brighton and Beighton going forward, even if many of us no longer count as bendy!
Update March 2018 – The non-specialist LAY versions of those 18 crunchy papers above are HERE now too for the win! Big thanks to The Ehlers-Danlos Society for writing these up for the rest of us who don't speak medicalese, or whose brains are just too tired to parse it. I think even some doctors will appreciate them too! And…
Update May 2018 – The Royal College of General Practitioners in London, England just successfully rolled out a brand new, brilliant "EDS Toolkit" online for their GPs (and other allied healthcare professionals) to learn and study from! And I got to help draft it at the invitation of the primary author, Dr. Emma Reinhold, a GP with hEDS and MCAS herself I met on Twitter along with some other much esteemed company.
I'm very pleased to have played even a small part in "midwifing" this project along. Please share it far and wide with any and all doctors you can! It is freely available to anyone and everyone on the web, not just the NHS.
The International 2017 EDS Classification via The Ehlers-Danlos Society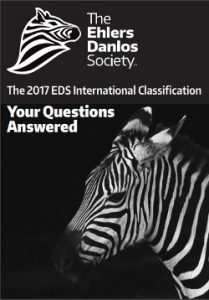 You might wish to refer to this FAQ document previously shared by The Ehlers-Danlos Society for clarification on the new criteria and terminology update as well. We will now be referring to EDS in the plural as the "Ehlers-Danlos syndromes" with an "s" on the end. (Or trying.)
As well as diagnosing an entirely new category of several Hypermobility Spectrum Disorders for those who look a lot like they have EDS, suffer much the same, but don't meet the criteria for any more specific diagnoses involving hypermobility of varying degrees yet.
I.e, they are subclinical for hEDS as I was for my first 44 years, and may now be technically again since I stiffened so much with age and arthritis. Kind of like how Pluto was re-classified to a dwarf planet 10 years ago right? It never changed a spot. We just changed our minds about it.
These forms of HSD also all supplant and replace the former diagnoses of Hypermobility Syndrome, Joint Hypermobility Syndrome, and Benign Joint Hypermobility Syndrome to my understanding. I like to think of the HSDs as the less visible bulk of patients "below the water line" as shown here: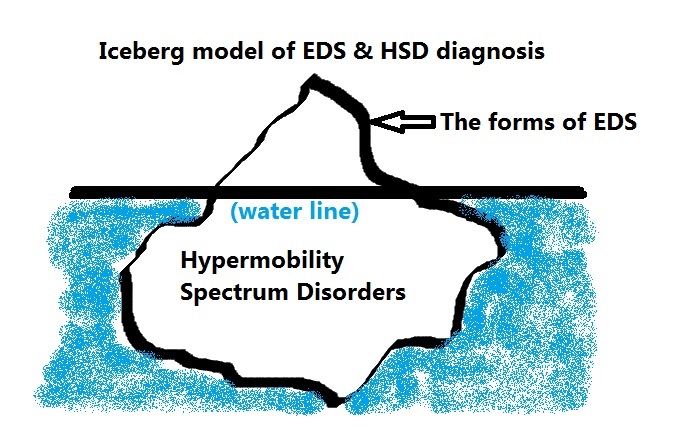 The criteria for what has been called hypermobile EDS or hEDS were just tightened in 2017, so I will no longer refer to this form as common anymore accordingly. I actually no longer meet the new criteria since it requires a much higher Beighton 9 pt score than before. I now fit one of the forms of the new catch-all bin of the Hypermobility Spectrum Disorders better even though I was extremely bendy as a child, but…
NB you do NOT need to "lose" your diagnosis of hEDS until/unless someone requires you to, such as to meet the criteria for a research study. Further, you will still have a diagnosis that represents a hypermobile disorder, but just with a different name. It is hoped this will lead to speedier presumptive care and management rather than just leaving patients suffering because they did not meet the new higher bar of hEDS diagnosis.
I, Jan, unscientifically personally now feel very strongly that the newly recognized Hypermobility Spectrum Disorders as such are NOT rare at all, but also just rarely diagnosed – and not just because they are newly introduced. But because they've always been dismissed as "normal" or early aging, or "just depression", fibromyalgia,  chronic fatigue or hypochondria under any name/classification scheme when they should not be!
It is my deepest wish that one day, this disease cluster will be as well known as multiple sclerosis, and much more quickly recognized. Everyone knows someone with a hypermobility spectrum disorder, if not even EDS. I will continue to post and tweet to that end, while I finish writing my book. Join me.
I can use your financial support at any level to help keep this blog online here thank you!