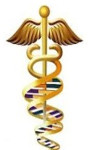 And maybe that's why you're tired too… join me on a journey of discovery about one of the most poorly recognized and unbelievably tangled health webs you can find… involving not just one, but several intertwined systemic conditions I personally unofficially call the "Chronic Constellation" for lack of a better name that are each alone enough to take a person down at the knees, but combined, can be downright show stopping, if not even lethal sometimes, sadly.
Yet barely 10% or so who have this "trifecta" of a form of EDS (or an HSD since 2017), MCAD and Dysautonomia (usually POTS) plus many variations and additional issues including autism and weak immune systems get properly diagnosed, and it takes 10 years on average to get diagnosed with a form of Ehlers-Danlos Syndrome. (It took me 25!)
Most are currently getting diagnosed with Fibromyalgia or ME/CFS, if anything at all. This site is my attempt to help remedy that for everyone – both patients AND doctors!
Hypermobility Spectrum Disorders aren't rare, they're rarely diagnosed!
---
News and Events
---
Congrats to all who made it to this year's Global EDS Learning Conference in Baltimore, MD August 2-5, 2018! 
While I didn't get to go this year, I heard there was record attendance, and a majority were first time attendees, many freshly diagnosed with the newly recognized Hypermobility Spectrum Disorders! This is great news, as it means slowly but surely the new diagnostic criteria are getting out to doctors! Don't forget the great new EDS Toolkit produced by the Royal College of General Practitioners last May can help too!
September is Chronic Pain and Chiari Malformation Awareness Month
September is both Chiari Malformation and Pain Awareness month, two major comorbidities of HSD and EDS (both) that are also some of the most disabling for us, and hard to diagnose. Although some rigid thinkers might like to think Chiari is easy to diagnose: either you have hanging cerebellar tonsils or you don't, it's truly not that simple. Many have what is termed "Chiari 0", with no visibly hanging tonsils, but all the sypmtoms and trouble of someone who does. Others will have grossly hanging cerebellar tonsils, but no symptoms. So once again, we encounter lots of medical gaslighting and disbelief as we struggle to find recognition and understanding around the condition. (Don't give up, the squeaky wheel does eventually get oiled.)
And many will also find they have tethered cord, which then becomes worsened if they have a Chiari release and spinal fusion operation which lengthens the cervical spine. This is then often also treated with a release operation later.
And pain is still an almost completely subjective measure – relying on patients to self-report, and our audience (medical or otherwise) to believe us when we do. And for some of us, our pain may be well out of proportion to the apparent "injury" (subluxation or dislocation). While for others, who may be hypo-sensitive (under-sensitive), it is the opposite: they can sublux and even dislocate readily and easily, but don't feel much pain except in the worst instances and cases, leading doctors to think the rest of us are just whiners and making our pain up, and that EDS and HSD are no big deal. (I suspect this of all those contortionists who perform on AGT.)  At least this report from 2009 agrees that Pain in EDS can be "Common, Severe and Associated with Functional Impairment"for some of us.
Is it any wonder doctors are so confused about us? Thank God for support groups who understand!
Speaking of support…
On a different note, I'm very happy to present a way for those of you who are willing and able to support me financially to do so via my Patreon page now! And I can really use your support! I'm having to step down from my part-time job after all due to another flare recently, and additional trouble reacting to a neighbor's vapors in my apartment. (Just missed work again today because of it, boo.) You can start as low as just $1/month! That's less than a cup of coffee almost everywhere these days…

All of my current content will still be available for free, and all of my blog posts will ultimately be free, but they may be available first to my paying supporters, then later to non-paying viewers after a suitable interval. I care too much about getting the word out/supporting this community to put it behind a paywall! Especially since many of you are disabled to varying degrees as well. But in case you're not, or you're a doctor or other medical practitioner who's benefiting from my site, I truly welcome your support here now TY!
I am also offering some 1/2 hour Skype consultations to patients and doctors at various support levels as well. Regardless, I have put in hundreds of hours on this site, and on Facebook and Twitter, working to bring you all the latest, greatest and most reliable information in the field at all times. This has been all out of my own very meager pocket on disability. Which now only pays my rent, so… I could really use your help staying fed and watered too!
You can also support me with a one-time gift via PayPal here thank you!
May 2017 historic EDS update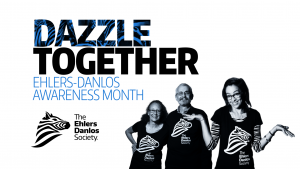 May was (is) Ehlers-Danlos Syndromes Awareness month and boy did we have some updating to do in 2017! Thanks to the brand new 2017 EDS  nosology and diagnostic criteria published March 15th, 2017 there were 7 new rare types to know about (making a total of 13, up from 6 before), and they tightened the criteria for the most common form, hypermobile EDS making it (technically) rare again. UPDATE 4/10/18: There's a new 14th type out now too.
ALL 18 PAPERS covering all aspects of the NEW Ehlers-Danlos Syndrome revised nosology and diagnostic criteria are here now. For those unaware, this is the FIRST update since the Villefranche nosology was presented in 1997 (over 20 years before!), and this also supplants and replaces the Brighton Diagnostic Criteria for Joint Hypermobility Syndrome which some also used to diagnose hypermobile type EDS also. So there will at least be no more confusion between Brighton and Beighton going forward, even if many of us no longer count as bendy!
Update March 2018 – The non-specialist LAY versions of those 18 crunchy papers above are HERE now too for the win! Big thanks to The Ehlers-Danlos Society for writing these up for the rest of us who don't speak medicalese, or whose brains are just too tired to parse it. I think even some doctors will appreciate them too! And…
Update May 2018 – The Royal College of General Practitioners in London, England just successfully rolled out a brand new, brilliant "EDS Toolkit" for their GPs to learn and study from! And I got to help draft it at the invitation of the primary author, Dr. Emma Reinhold, a GP with hEDS and MCAS herself I met on Twitter along with some other much esteemed company. I'm very pleased to have played even a small part in "midwifing" this project along. Please share it far and wide with any and all doctors you can! It is freely available to anyone and everyone on the web, not just the NHS.
The International 2017 EDS Classification via The Ehlers-Danlos Society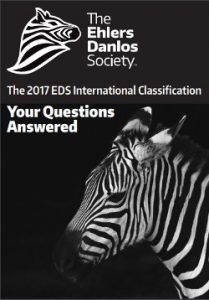 You might wish to refer to this FAQ document previously shared by The EDS for clarification on the new criteria and terminology update as well. We will now be referring to EDS in the plural as the "Ehlers-Danlos syndromes" with an "s" on the end. (Or trying.) As well as diagnosing an entirely new category of several Hypermobility Spectrum Disorders for those who look a lot like they have EDS, suffer much the same, but don't meet the criteria for any more specific diagnoses involving hypermobility of varying degrees yet.
I.e, they are subclinical for hEDS as I was for my first 44 years, and may now be technically again since I stiffened so much with age and arthritis. Kind of like how Pluto was re-classified to a dwarf planet 10 years ago right? It never changed a spot. These also all supplant and replace the former diagnoses of Hypermobility Syndrome, Joint Hypermobility Syndrome, and Benign Joint Hypermobility Syndrome to my understanding.
The criteria for what has been called hypermobile EDS or hEDS were just tightened, so I will no longer refer to this form as common anymore accordingly. I actually no longer meet the new criteria since it requires a much higher Beighton 9 pt score than before. I now fit one of the forms of the new catch-all bin of the Hypermobility Spectrum Disorders better even though I was extremely bendy as a child, but…
NB you do NOT need to "lose" your diagnosis of hEDS until/unless someone requires you to, such as to meet the criteria for a research study. Further, you will still have a diagnosis that represents a hypermobile disorder, but just with a different name. It is hoped this will lead to speedier presumptive care and management rather than just leaving patients suffering because they did not meet the new higher bar of hEDS diagnosis.
I, Jan, unscientifically personally now feel very strongly that the newly recognized Hypermobility Spectrum Disorders as such are NOT rare at all, but also just rarely diagnosed – and not just because they are newly introduced. But because they've always been dismissed as "normal" or early aging, or "just depression", fibromyalgia,  chronic fatigue or hypochondria under any name/classification scheme when they should not be!
It is my deepest wish that one day, this disease cluster will be as well known as multiple sclerosis, and much more quickly recognized. Everyone knows someone with a hypermobility spectrum disorder, if not even EDS. I will continue to post and tweet to that end, while I finish writing my book. Join me.
Older news of note
EDS, MCAD with high tryptase (aka familial tryptasemia) and POTS linked by NIH October 17, 2016 – two articles delineating the results of Dr. Josh Milner's study of comorbid MCAD and HEDS (plus dysautonomia) seen in a statistically significant number of patients at the NIH came out this week:
Yes, I was part of this study. No idea if I had elevated tryptase or not in the blood I sent, but I highly doubt it. So the $64K Q for me is: do I have this mutation? I also don't know – yet. (Update April 2018: Just learned there's now a commercial DNA test available to check for it, link above.) That said, I'm already managing the conditions (plural) pretty well already, so I've got that bit handled, which is my main goal. (Everyone else can split hairs and fight over how to classify and recognize and validate us while I continue rebuilding myself TYVM.) Still, nice to see the fruits of his labor help move the ball a little bit down the field. And maybe make it easy to diagnose another small subset of the hEDS population with familial "tryptasemia" as he calls it. See his earlier recent update videos on my resources page.
Please note, the vast majority of Hypermobile type EDS cases even with MCAD of any flavor (masto or MCAS), POTS or other dysautonomia, or otherwise, still remain to be explained. Again, this only explains a small subset.   Intro to my blog and me for new visitors…
I can use your financial support at any level to help keep this blog online here thank you.